Royal Drivers Training
Royal Drivers Training Established in 1994. Over the last 16 years, we have earned great reputation as a high quality school offering not only the M.T.O. Beginners Driver's Education Course, but numerous other courses as well as refresher course for senior drivers. We are proud of being the only local driver education involved in training the trainers and examiners in Centennial and Humber College. All our Instructors are dedicated individuals who thrive on teaching new and experienced drivers to become a safer driver. At Royal Drivers you learn for life. Enroll with Royal Drivers Now!
Driving School Location:
Attn:Kevin,
Royal Drivers Training,
315 Lancaster St. W
Kitchener, Ontario. N2H4V4
Phone:519-222-3496
Website:
www.royaldrivers.com
Email:
Click Here
or fill the form on right side >>
Royal Drivers Training Map
Royal Drivers Training Student Reviews
I can't say enough good things about Royal Drivers my instructor was easy to understand, patient and extremely knowledgeable. I was able to write my road test within 1 month and passed on my very first try! It was affordable, local and my instructor was able to work around my schedule! I was especially impressed when i had to cancel a lesson and my instructor didn't charge me any cancelation fee at all! Great service! thank you Kevin! by davie posted on Friday, March 02, 2012
Best school ever! Affordable, and the instructors are super nice! I would constantly have to reschedule due to school work, and they were really understanding. Even picked me up from school or from my home, and even after two years (after passing my G2 on the first try!), they still wave and remember my name whenever we run into each other on the streets. by Bren posted on Sunday, September 09, 2012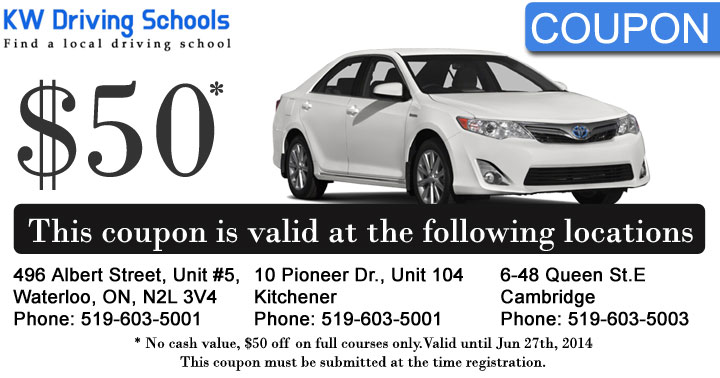 NO TEXT & DRIVE
Drive safer by using a Hands-free wireless communications devices with an earpiece or Bluetooth device if you can't wait to use your cell phone. Drive safe!
Display Your Logo
100% Student Reviews
We are an independent directory, which means we're not affiliated with any particular schools. We do not take sides and display all the comments we receive from users - no matter if they are positive and negative.

If you've attended a driving school we invite you to write a review on the school you studied with! Help the next person make an informed choice!