Dominion Driving
At Dominion Driving Schools, we are committed to providing education for safe and defensive driving. We are a Ministry of Transportation approved Beginner Driver Education course provider in Kitchener, Waterloo, Elmira, New Hamburg, and Cambridge.

Driving School Location:
Attn:Dominion Driving ,
Dominion Driving ,
87 Ontario St S
Kitchener, Ontario. N2G1X5
Phone:5-195-764-494
Website:
www.dominiondrivingschools.com/
Email:
Click Here
or fill the form on right side >>
Dominion Driving Map
Dominion Driving Student Reviews
Dominion book my sons road test for his G2. They gave him the wrong time for his road, so he missed the test.
When I called dominion to tell them, they took no responsibility . Poor customer service by Heather posted on Monday, June 22, 2015
Good school by Aman posted on Friday, February 17, 2017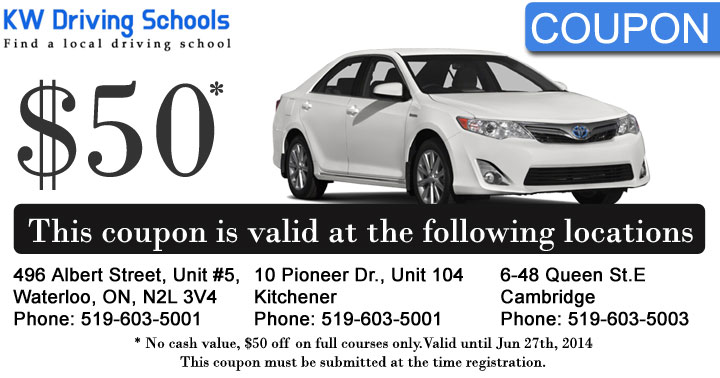 NO TEXT & DRIVE
Drive safer by using a Hands-free wireless communications devices with an earpiece or Bluetooth device if you can't wait to use your cell phone. Drive safe!
Display Your Logo
100% Student Reviews
We are an independent directory, which means we're not affiliated with any particular schools. We do not take sides and display all the comments we receive from users - no matter if they are positive and negative.

If you've attended a driving school we invite you to write a review on the school you studied with! Help the next person make an informed choice!