Conestoga Motorcycle Driver Training
Conestoga has been offering motorcycle driver training to new and experienced riders since 1976. For all of our riding programs, participants must come prepared with mandatory riding gear: certified helmet, sturdy jacket and pants (leather, corduroy, or denim), sturdy boots which cover the ankle, and full fingered leather gloves (rain gear is optional).

Only you can make the choice to engage in Motorcycle Driver Training, your comfort and safety is your responsibility.

Participants must be a minimum of 16 years old. All participants will be required to sign a waiver form prior to starting their riding lessons. Participants under the age of 18 must have their waiver form signed by a parent or guardian.

The Motorcycle Driver Training (GINT0315) is a Canada Safety Council (CSC) Motorcycle training course that gives 22 hours of instruction. Included in the course is the CSC Workbook "Gearing Up" which must be completed in its entirety and includes a motorcycle comparison assignment. Full attendance for the 22 hours is mandatory.

Class sizes maintain a ratio of 1 instructor to 5 students when you completing your practical component for Motorcycle Driver Training.

Participants are engaged in intensive practical riding on a strategically designed circuit that progressively builds and reinforces riding skills.

The course concludes with Ministry of Transportation testing for the M2 class license. Motorcycles are supplied by Conestoga College.

Riding motorcycles is not for everyone and is a privilege to be enjoyed and respected. These courses provide an opportunity for participants to have their Motorcycle riding abilities assessed in a controlled, non-bias environment by trained motorcycle riding instructors. Only if you meet the Ministry of Transportation testing requirements will your Ontario motorcycle license be upgraded.

*If you have questions or concerns about our course or our equipment please call 519-748-5220-3722. Mon-Fri, 8:00am to 4:00pm.

(M2 EXIT) Experienced Rider (#GINT0005) prepares the participant for the Ministry of Transportation testing for the "M" class license. Participants must supply their own mechanically sound, insured and registered motorcycle capable of highway speeds.
Conestoga Motorcycle Driver Training Map
Conestoga Motorcycle Driver Training Student Reviews
did M1 and M2 with Conestoga. Great program/ by C.KJ posted on Monday, February 27, 2017
I started the course with zero experience on a bike. I highly recommend this course to anyone that has gotten their M1. The instructors are World class, and the knowledge and skills they pass on are invaluable. by Dale Robinson posted on Friday, May 11, 2018
Excellent course, even for a more senior rider getting back into motorcycling. Very good training over and above the basics needed to pass the M2 test. Looking forward to taking the M2 exit course. by Jim Byrne posted on Wednesday, April 22, 2020
I was wondering if it was possible to get a copy of my certificate for doing the m1 and m2 training course ?
Please let me know thanks. by Adam judd posted on Tuesday, May 19, 2020
Gurjit by Gurjit posted on Tuesday, June 15, 2021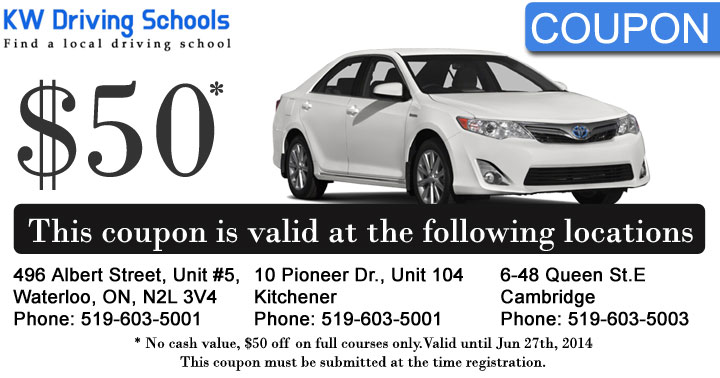 NO TEXT & DRIVE
Drive safer by using a Hands-free wireless communications devices with an earpiece or Bluetooth device if you can't wait to use your cell phone. Drive safe!
Display Your Logo
100% Student Reviews
We are an independent directory, which means we're not affiliated with any particular schools. We do not take sides and display all the comments we receive from users - no matter if they are positive and negative.

If you've attended a driving school we invite you to write a review on the school you studied with! Help the next person make an informed choice!