Pro Driving School
Pro Driving School provides Ministry Approved Driving Education Courses (MTO).
Pro Driving school proudly serves the Kitchener (KW), Waterloo, Cambridge and surrounding areas.

Pro Driving School is the excellent driving school choice for those who want the best in driving instruction.

G1, G2, G driving license training. The best driving school in Kitchener-Waterloo-Cambridge area.
Free pick-up and drop off anywhere in Kitchener-Waterloo-Cambridge area.All instructors have presented a clear Criminal background check.Professional licence instructor with Driver Examiner experience at Kitchener, Guelph, Brampton Drive Test Center.Patient and courteous female instructors are available.All in car lesson are private, no more than one student in the car.Driving school conveniently located on King Street North Waterloo (between downtown Waterloo and University Ave).
Driving School Location:
Attn:Annie or Matilda,
Pro Driving School,
108 King Street North
Waterloo, Ontario. N2J2X6
Phone:519-954-8541
Website:
www.prodrivingschool.ca
Email:
Click Here
or fill the form on right side >>
Pro Driving School Map
Pro Driving School Student Reviews
I went to Pro Driving School,after I had a bad experience with one driving school from downtown Kitchener.With the previous school when I booked 1 hour of driving lesson ,the instructor was always taking smoke brakes,or washroom breaks for 10 minutes of my time..After few lessons I see no progress and I hate waiting in the parking lot for my instructor to finish his smoke or his disscussion with other instructors .I went to Pro Driving Shool in Waterloo,and they booked me each time for 1.5 h of training ,but that was intensive.I did learn the hand over hand steering,the previos instructor did not care how I turn the steering wheel.I learn all the parkings easily,never wait for the instructor,she was always in time and nooo breaks at all.It was a great experience and I am telling everyone .
by William posted on Saturday, September 24, 2011
I finished with Pro Driving School, excellent service, time well spend. Good price. Great instructor. I will remember forever. :)
BTW: I passed my G2. Thank you. by Claudia posted on Wednesday, July 04, 2012
I would like to thank my driving instructor, Matilda from Pro Driving School at Kitchener,waterloo Ontario for patiently teaching me the skills and techniques on how to be a good confident driver.I had few driving instructors before from toronto and neither one of them is uncomparable to her.I have learned so much from her that I did not learned from any other instructor I had experience before.She was so patient,punctual and professional...I am happy and thankful that I found Pro Driving School and got the best driving instructor.Without Matilda,its not possible for me to get my G2 licence,Passed it on the First attempt.I would love her to be my instructor again for G2 exit test.Thanks to you and more power!!! by maricel posted on Wednesday, July 17, 2013
There's an instructor named elvryn bauman who works for pro driving school. Horrible instructor. will keep dragging and make you take 15 20 lessons. always prompts and make you scared while driving. never teaches turns properly. worst instructor i have ever seen. by Alice posted on Tuesday, September 03, 2013
Response to Alice, posted ON Tuesday, September 03/2013:
Dear Alice: Elverne Bauman is not working for Pro Driving School, we do not know where you get this info. Please contact Pro Driving School for clarification. by Maria S posted on Saturday, November 09, 2013
I used this driving school based on a friend referral. I do not regret anything because I had the best instructor ever. I tried with a different one, but I wanted to hear a second opinion. by Elena posted on Monday, December 21, 2015
THIS IS THE WORST PLACE IN CANADA I HATED MY EXPERIENCE HE MADE ME GO GROCERY SHOPPING FOR HIM by timothy KILL posted on Wednesday, November 09, 2016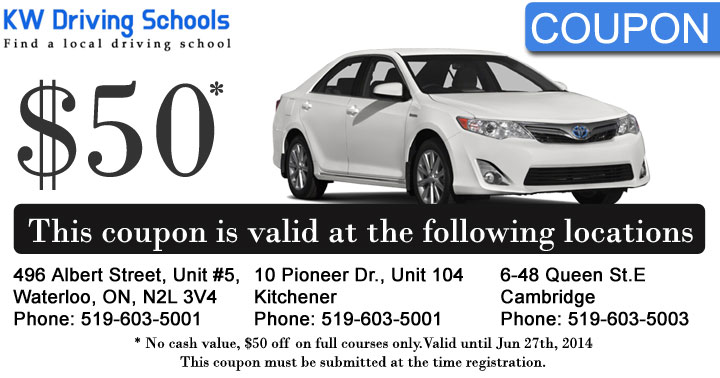 NO TEXT & DRIVE
Drive safer by using a Hands-free wireless communications devices with an earpiece or Bluetooth device if you can't wait to use your cell phone. Drive safe!
Display Your Logo
100% Student Reviews
We are an independent directory, which means we're not affiliated with any particular schools. We do not take sides and display all the comments we receive from users - no matter if they are positive and negative.

If you've attended a driving school we invite you to write a review on the school you studied with! Help the next person make an informed choice!