International Driving School Inc.
International Driving School Inc. has been successfully serving the Kitchener-Waterloo Area since 1995. Our driver education courses for cars or trucks are professionally designed to cater for drivers of all skill levels from beginners to experienced drivers. We are proud of our record as a driver education facility and we are confident that we provide courses that are superior to other driving schools in Kitchener/Waterloo.

We focus on teaching our students correct driving habits. Our instructors are one of the best in terms of training, enthusiasm, dedication and experience.

We are Ministry-Approved Beginner Driver Education Course Provider And Registered As Private Career College with the Ministry of Training, Colleges and Universities

You can enquire about both truck and car training. International Driving School Inc. specializes in G1, G2, G, A, D and Z license.
Driving School Location:
International Driving School Inc.,
41 River Road East #3
Kitchener, Ontario. N2B2G3
Phone:519-894-6726
Website:
www.internationaldriving.ca
Email:
Click Here
or fill the form on right side >>
International Driving School Inc. Map
International Driving School Inc. Student Reviews
I have just to see yourprogram by Abdulrazaq posted on Monday, September 22, 2014
Did the company assist for installment payment for course ? by Mewael posted on Thursday, October 13, 2016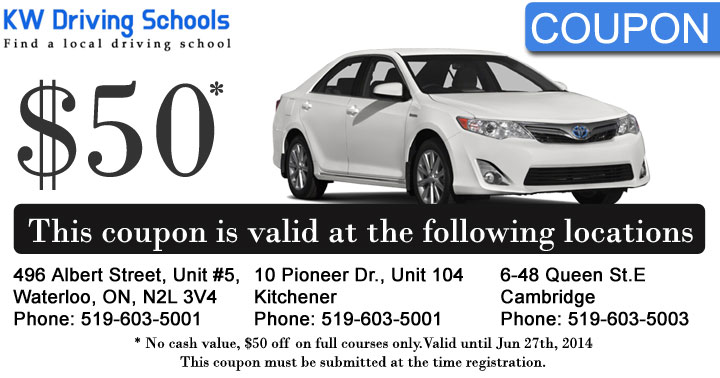 NO TEXT & DRIVE
Drive safer by using a Hands-free wireless communications devices with an earpiece or Bluetooth device if you can't wait to use your cell phone. Drive safe!
Display Your Logo
100% Student Reviews
We are an independent directory, which means we're not affiliated with any particular schools. We do not take sides and display all the comments we receive from users - no matter if they are positive and negative.

If you've attended a driving school we invite you to write a review on the school you studied with! Help the next person make an informed choice!